The DQ Media – formerly known as DeltaQuest Media – roots were planted in 2010 when DeltaQuest Group performed an enormous digital transformation to keep up with the ever-changing internet landscape. The core of the media team was formed as work begun on migrating the group's 3 main websites to WordPress, which later expanded to 20 more specialised service sites in the space of 10 months. This marked our entrance into the digital arena and the first blueprints for DQ Media were put together.
Having outgrown WordPress, we started expanding our talented team in order to serve digital projects of added complexity. Our painful reliance on third party software and services were to be a thing of the past.
Now seven years on, DQ Media possesses a powerful web platform of our own and an increasingly impressive digital portfolio, and are ready to offer our expertise to customers around the globe.
OUR MISSION
Our mission is to help people achieve their digital goals, using our skills and experience to build them something that is truly valuable to their brand and customers.
OUR TEAM
The minds that fuel our ambitions.
Christopher Thoma
HEAD OF MEDIA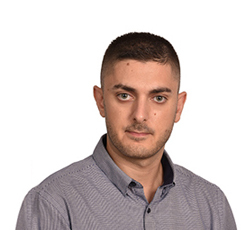 Christopher Thoma
Christopher has over a decade's worth of experience working in digital design and developing web-based projects. As the driving force behind DQ Media, he has been highly influential in the growth of the company and its ventures, from its initial conceptualisation right through to the projects' development and marketing.
Elpida Kyriakou
LEAD PROGRAMMER
Elpida Kyriakou
Elpida has more than 6 years' experience in front end development and deals with the management and configuration of our hosting environment. She holds a BSc in Computer Science from the University of Sussex and an MSc in Advanced Information Technology from the University of Cyprus.
Robert Pilyugin
MARKETING MANAGER
Robert Pilyugin
Robert has extensive knowledge in a multitude of online marketing practices and is focused on achieving the marketing goals of our clients. He has a strong desire to constantly develop innovative strategies and cutting-edge tools, helping keep DQ Media at the top of its game.
Chris Leitch
CONTENT MANAGER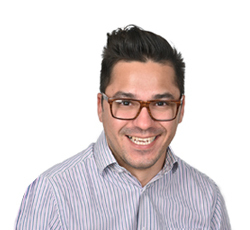 Chris Leitch
As DQ Media's content manager, Chris is responsible for accelerating our content strategy and development for all our internal and external digital projects. He brings a range of skills and experience to the table, as well as a passion for content and storytelling.
Andreea Lazar
QA SOFTWARE ENGINEER
Andreea Lazar
Andreea has been part of the team for 5 years and plays a critical role in software quality improvement for customer-facing websites. She is focused on ensuring all our digital projects are delivered to the highest of standards.
Georgios Saliaris
WEB & GRAPHIC DESIGNER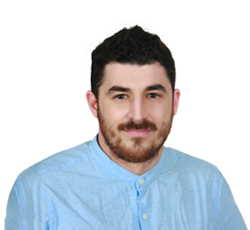 Georgios Saliaris
Georgios is responsible for crafting aesthetic and forward-thinking brand identities for DQ Media's various digital projects. Having graduated from the AKMI Metropolitan College in Athens, Greece, he brings over 10 years of professional graphic and web design experience to the team.
Natalie Pain
WEB & GRAPHIC DESIGNER
Natalie Pain
Natalie has a diverse range of experience in Graphic Design. As a former freelance artist, she's worked with clients from all over the world. She hopes to bring fresh and innovative ideas as a web and graphic designer for DQ Media.
Anna Kalina
WEB DEVELOPER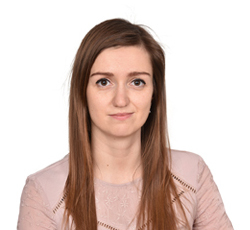 Anna Kalina
Having joined the DQ Media family in 2016, Anna is responsible for developing cutting-edge web products for our clients. She holds a Master's degree in applied mathematics and system programming, and has 6 years of experience in back-end development.
Ekaterina Zavialova
WEB DEVELOPER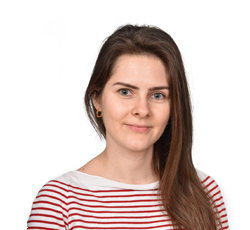 Ekaterina Zavialova
Ekaterina is a back-end developer and plays a key role in building our suite of web applications. She has been developing professionally since 2011 and holds a Master's degree in applied mathematics and system programming from Yaroslavl State University.
Joanna Zambas
CONTENT SPECIALIST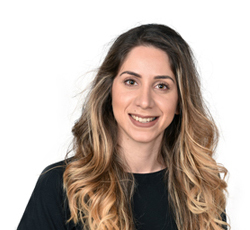 Joanna Zambas
Joanna has wide-ranging experience in a variety of industries, including fashion and travel. Having studied Media and Journalism at BA and MA level, as well as practising in various professional environments, she has developed the skills to produce high-quality and informative content.
Siôn Phillpott
CONTENT SPECIALIST
Siôn Phillpott
Siôn has extensive experience in a diverse range of industries, including a strong background in the professional services sector. He writes with authority on a variety of topics and is currently focused on producing high-quality content for our digital media projects.