THE OBJECTIVE
To create a series of tests that will help users determine the career path they should follow. They also required the development of a complex technical structure to administer the tests and generate results based on each individual user's answers.
SERVICES
Brand Creation & Logo Design
Web & Technical Development
Responsive Web Design
Corporate Identity
BRAND CREATION
We were tasked with creating a brand that would reflect the digital service that would be offered to a young and probing audience. Career Hunter takes into account the entire concept of helping its test takers find their ideal career path. The logo was crafted around this, as well as a hunting theme by using a compass symbol.

WEB DEVELOPMENT
We needed to build a platform to support the advanced testing algorithm, as well as generate results for users who take the tests. We also created a specific function to generate a detailed report for users once they completed all the tests. In addition to the more intense technical programming, we were also responsible for creating and integrating the eCommerce functionality on the site that would allow Career Hunter to sell its services to users.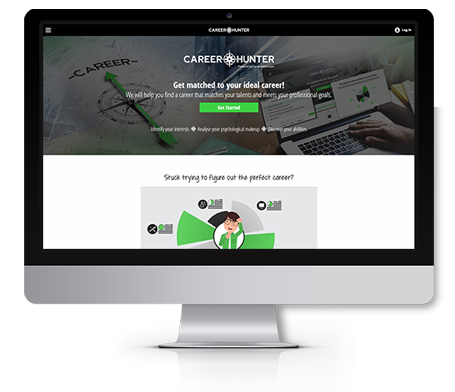 RESPONSIVE WEB DESIGN
With Career Hunter, not only are the site's webpages fully responsive and cross device compatible, but the testing environment is also accessible from any computing device with a compatible web browser. The platform was designed in a user-friendly way and has been optimised for speed so that all users can have a trouble-free testing experience. Work has also been done to optimise pages for higher click through rates and performance.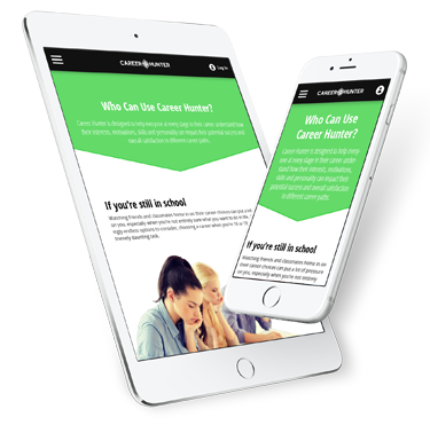 SCIENCE & TECHNOLOGY
We were not only tasked with the planning and creation of the website, but also with the making of the entire scientific process and algorithms behind the tests. With the help of occupational psychologists, psychometricians and career counsellors, we were able to create and thoroughly test working formulas to help map results to recommended careers. Career Hunter now has a database of over 200 professions that can meticulously be linked to each user's test results.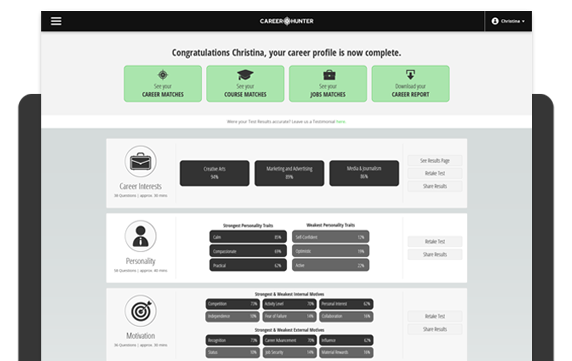 CORPORATE IDENTITY
One of the goals of Career Hunter was to build partnerships with educational institutions. With that in mind, we had to build up a full corporate identity that fully represented their testing platform. The folder we created was done using a cutting knife for the shape and foil to bring the logo to life. The flyers reflect not only the branding of the platform, but also give readers a clear idea of who the system is built for.